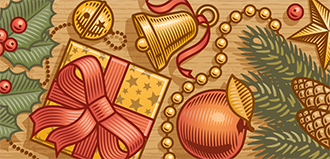 Comments Off

on Putting a Price Tag on the 12 Days of Christmas
14 Dec,2017
Have you ever thought about what the actual cost is for the unique gifts in the classic "12 Days of Christmas" carol? Seriously, how much does a partridge in a pear tree really cost? (Or where do you even buy the partridge?) Well, if you find one, it will cost you $219.95 this year. And those seven swans? Well, they'll set you back $13,125, according to the PNC Christmas Price Index®.
Every year, PNC Financial Services Group calculates each of the 12 Days of Christmas gifts and their respective prices. An interactive infographic also shows consumers the price of the gifts compared to prior years' prices (starting in 1984). And as you can imagine, the price tag just keeps getting bigger. If completing the song doesn't take your breath away, maybe the price tag for all 12 gifts will…a hefty $34,558.65 this year to gift each of the items. (That's up .6 percent up from last year.)
Get all the details by reading the source article from PNC Financial Services Group, Inc.
You might not be receiving five gold rings this holiday season, but any precious gift needs to be properly protected. Make sure you have the right insurance. Talk to Doug today to learn more and get a free quote.